Your driveway is the first thing that people see when they visit your house. A well-paved and well-maintained driveway can boost the aesthetics of your outdoor space and provide more convenient and comfort while entering and leaving your home. But going about with the paving process isn't a feasible option as it requires precision and skill. You need to approach a professional pavers contractor like us at Titan Pavers who can do the job for you.
Just like any other component that you use for your home renovation project, you need to choose driveway pavers with care. As a professional pavers contractor, Titan Pavers can help you choose the best paving material for your driveway and reduce your confusion significantly.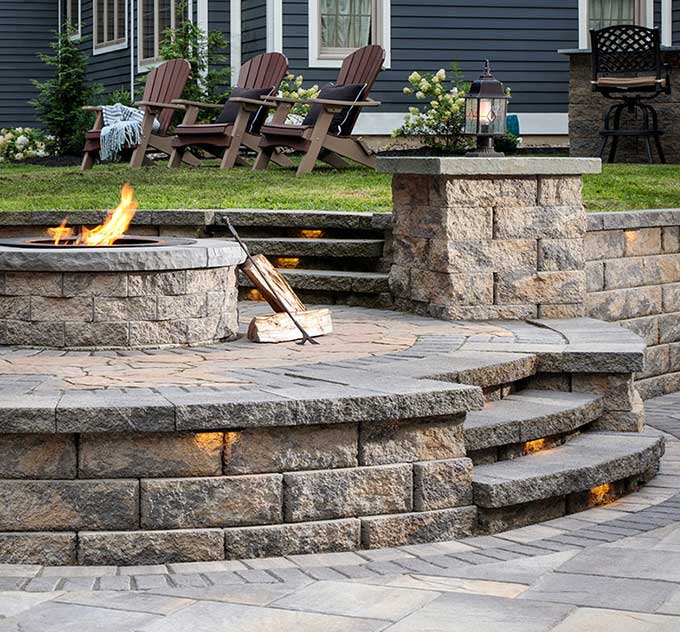 Things to Consider
Before undertaking a paving project, it helps to have a few basics in mind:
Curb appeal: If you're undertaking the project primarily for curb appeal, driveway trends are straying away from the standard aesthetics (e.g., rectangle pavers, etc). Natural stone pavers can give the home a unique look that sends the right first impression.
Eco-friendliness: Permeable pavers are highly recommended if eco-friendliness is a top priority. The more natural absorption in a neighborhood, the less run-off and the cleaner the drinking water will be. Concrete is permeable, which means fewer puddles for you to deal with.
Difficulty: Difficult projects require serious skill, which means that it will be that much more to finish the project. Concrete pavers are significantly more affordable than natural stone pavers.
Traffic: The more traffic the driveway endures, the tougher the material needs to be. While natural stone concrete and concrete pavers are both durable, you can also consider flagstone or stamped concrete for heavy traffic. For homes with less stress, asphalt might be an option. (Titan Pavers has written a number of articles comparing materials together, making it easy for you to choose which one is right for you.)
The Basics: Understanding Natural Stone Pavers vs Concrete Pavers
If you're weighing the two options, you should know the advantages and disadvantages before you decide.
What to Know About Natural Stone Pavers
Natural stone pavers are made from large stones. They need to be dug out and cut into smaller pieces to be brought to your driveway, which is why they tend to be more expensive. While they can certainly be attractive, which is a huge perk for anyone hoping to improve their resale value, they're not as even or flat as concrete pavers are.
It also tends to crack more frequently than other materials due to its permeability.
Finally, natural stone pavers aren't always even in terms of color and pattern. Because natural stone will vary based on where and how it's cut, it can make for a noticeable difference in terms of aesthetics.
What to Know About Concrete Pavers
There are a number of benefits to concrete pavers. They are inexpensive, durable, and relatively easy to clean. These pavers are particularly practical choices in warmer cities like Los Angeles because they're not subjected to salting after a snow. When maintained, these driveways can last up to half a century.
The major downside of concrete is that it's unlikely to add any value to the home. However, because there are so many options when it comes to concrete pavers, including colors, textures, and shapes, there's a lot of room here to choose pavers that complement the existing colors and materials of your home.
Just remember when you're choosing pavers that they tend to fade over time (particularly in harsh sunlight). The experts at Titan Pavers can help you select pavers that will look just as good today as they do 20 years from now.
Choosing Natural Stone Pavers for Your Driveway Renovation Project
The sheer appeal and decorative flexibility of natural stone pavers are reasons enough for so many homeowners and architects to consider it for their driveway renovation projects. Here are some types of stone pavers that we offer:
This paving stone is decorative and features a wide spectrum of colors like amber, gold, gray, black, and purple. Besides its aesthetic appeal, slate is widely used owing to its natural slip-resistant properties. Since slate is split from the rock bed while quarrying, these stone pavers tend to be texturally varied. They have varied size options, natural durability, and a rugged appeal—all of which culminate to give your outdoor space a completely new look.
When it comes to stone pavers, you also have the option to choose travertine. This versatile paving stone is often associated with the appeal of Ancient Roman style. It offers a smooth texture and lends a rustic appeal with its natural cavities and pits. These driveway pavers are perfectly suited to high-end outdoor applications. They are naturally durable and can last for years if maintained well. At the same time, you also get a wide choice of layouts and colors, all of which accentuate your home's appearance.
Granite pavers are used as natural stone pavers for centuries now. The rock is formed when minerals like feldspar and quartz get trapped in cooling magma, making it quite tough a substance. Having a crystalline, sugary surface, granite is known to lend an unmatched stylish appearance. Granite stone pavers come in a wide range of colors and sizes, all of which suit different landscaping applications. They have a natural resistance to wear and tear, thereby providing a sense of permanence and lasting appearance.
Buying Natural Stone Pavers
The pavers at Titan Pavers are known for their unique visuals, durability, and practicality. When investing in them, you must consider the following factors:
Your budget relative to the traffic your driveway will endure over time.
The color and patterns of any pavers you may choose. (They should suit the décor of your outdoor space).
The experience of the paving contractor. Accuracy and expertise are non-negotiables when it comes to repaving your driveway.
We specialize in providing concrete pavers that are as functional as they are beautiful. You're sure to get a reliable design that stands the test of time.