When it comes to constructing beautiful and durable driveways, few building materials are better than concrete pavers. Available in an incredibly wide range of styles, colors, sizes, and patterns, the best concrete pavers for driveways give you the flexibility to create a truly one-of-a-kind driveway. If you are considering constructing your driveway using pavers, here is what you need to know about selecting the right style, laying pattern, size, and more.
First, why concrete pavers for driveways?
While there are a number of other options when it comes to paving your driveway, such as brick, stamped concrete, asphalt, and natural stone, concrete pavers offer a number of advantages. Some of the most obvious pros of the best concrete pavers for driveway covering include:
Durability – Some pavers come with an extensive warranty because of durability
Strength – Can withstand vehicular weight without cracking
Ease of maintenance – Concrete pavers often require less attention than something like stamped concrete, brick, or natural stone
If you would like to know more about how concrete pavers compare to other popular options, be sure to check out Paving Driveway: Comparing Asphalt vs Brick vs Concrete and Pavers Versus Concrete Comparison Guide on our blog.
Driveway Paver Styles
Driveway paving stones can be broken down into several different categories and styles. To start, you will need to choose between permeable and impervious pavers. Permeable pavers are designed to be water permeable, allowing them to drain through the stone rather than gathering on top of it, while impervious pavers will not absorb water and will instead allow water to flow over the top of the paver.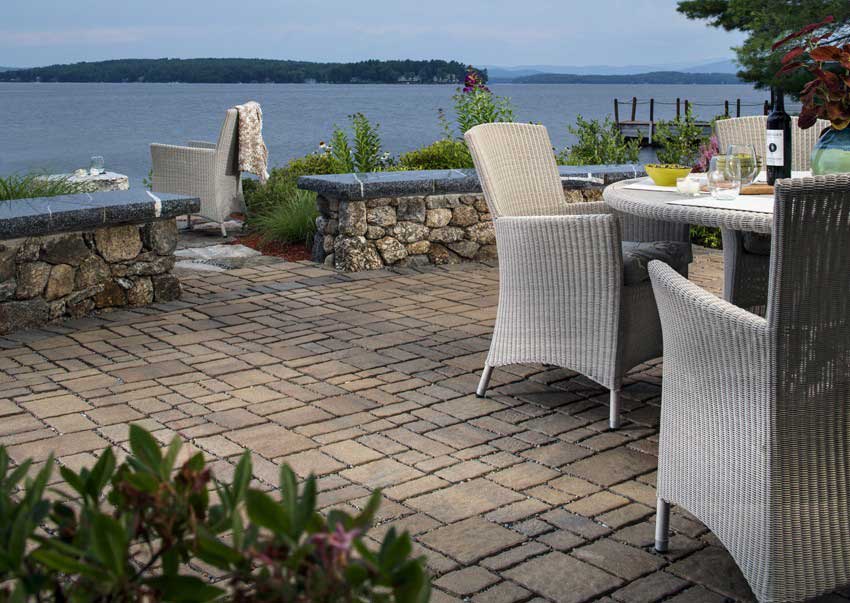 Which of these paver types is best for you will depend on your location and the type of driveway you are constructing. In many cases, though, permeable concrete pavers offer a number of advantages – especially in areas where heavy rainfall and flooding are a concern. At Titan Pavers, we offer a wide range of permeable paving stones, including Belgard Aqua Roc™, Eco Dublin®, Belgard Turfstone™ as well as Angelus Aqualina, Holland, and SF Rima pavers.
After you've decided between permeable and impervious pavers for your driveways, the next step is to choose between a contemporary, traditional, or stone-textured style for your pavers. The differences between these styles are purely aesthetic, so the choice will come down to which paver style you think will look best in your new driveway.
Paver Patterns to Consider
Driveway pavers can be laid in a number of patterns – ranging from simple and straightforward patterns to more complex designs that are made using paving stones that differ in size and shape. Just a few of the pattern options that you will have to choose from when you work with Titan Pavers include patterns such as: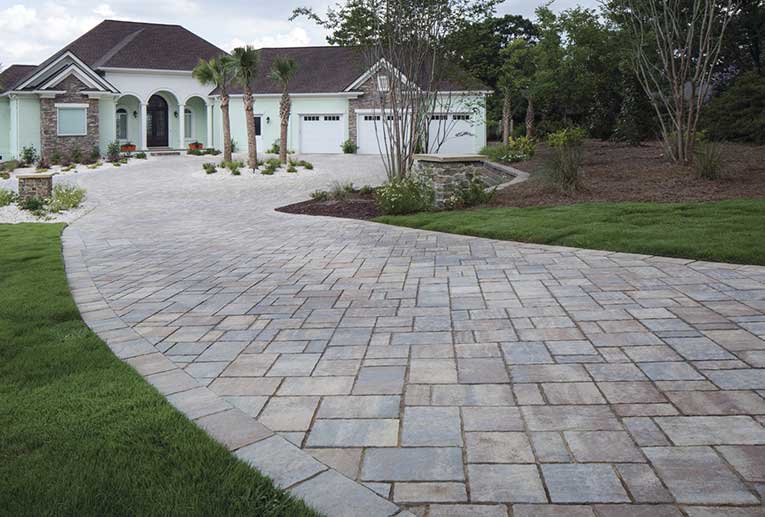 While the primary difference between these patterns is the way they look, it is true that some patterns are more durable than others. If you have any questions about the long-term durability of a specific pattern, the paving experts at Titan Pavers are happy to help.
Things to Consider to Find the Best Concrete Pavers for Driveways
As you try to pick the best concrete pavers for driveway setups, you can be faced with an impressive list of options. Let's take a look at some of the things to consider.
Will the driveway sustain a lot of traffic?
If your driveway is frequented by your vehicle or multiple vehicles several times a day, durability is going to be a big deal. As you assess your options, consider questions like what are the most durable pavers and what pavers last the longest? One good indicator of durability is how long the warranty is for any particular type of stone. 
Is drainage important on your property?
If you live in an area that sustains a lot of rainfall, you may need to look at permeable pavers. Permeable pavers are the best concrete pavers for driveway areas that may be prone to puddling or directing flooding streams of water somewhere they don't need to be. 
Are you looking for a more eco-friendly option?
Eco-friendly pavement does not disrupt the natural environment. One major way pavers can be more eco-friendly is by not interfering with the natural amount of water available to the ground in any given area. Therefore, permeable pavers are a good choice if you prefer something that is good for the natural environment. 
Are you most concerned with improving curb appeal?
The best permeable pavers for driveway use always offer a level of curb appeal to your property. Naturally, certain styles will be more likely to add curb appeal than others. For example, something like Heartland paving stones from Angelus in terracotta or Tuscan hue can really drive up the design value when viewed from the curb.
What are the best concrete pavers for driveway areas to complement your home style?
Matching the stones you choose to the overall style of your home is always important. For example, you probably won't want a more traditional-looking stone if you have a modern/contemporary home exterior. The best concrete pavers for driveway use will flow seamlessly with the rest of your property's design. 
What budget are you working with?
If you do have a pre-set budget in mind, you can pick the best concrete pavers for driveway covering based on how much you are looking to spend. Naturally, some stones and patterns are more expensive. For example, if you go with something like Antique Cobble, the end result may be more costly because there are so many small stones, but something like Pavillion I and II, which has larger pieces. 
11 Best-in-Class Driveway Pavers
Angelus Antique Cobble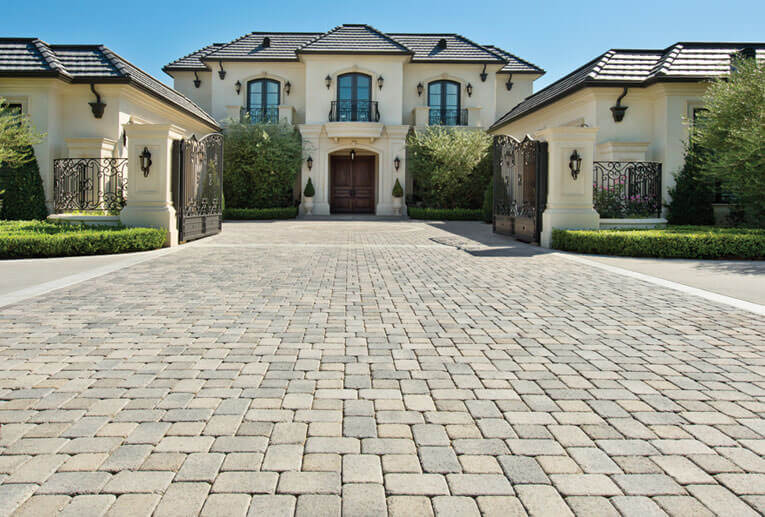 Angelus Antique Cobble I & II are mid-sized cobble-style pavers from the Angelus Heritage Collection. The pavers have these softened edges and more rounded tops, which really contribute to that Old-World feel.
Belgard Old World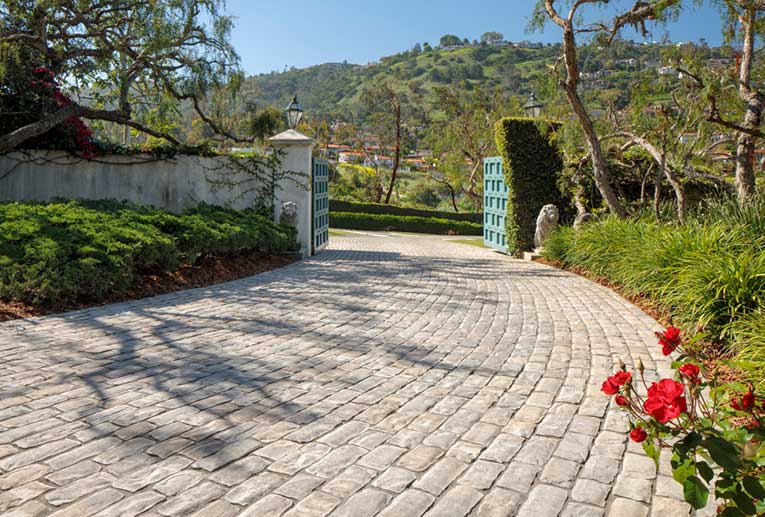 Old World pavers were created in recollection of the cobbled streets found in different areas throughout history. The cleft finishes look like time-worn stones, and the varied stone sizes make it possible for visual variation. This particular option is one of the best pavers for driveway areas that boast a more antiquated design. 
Angelus Courtyard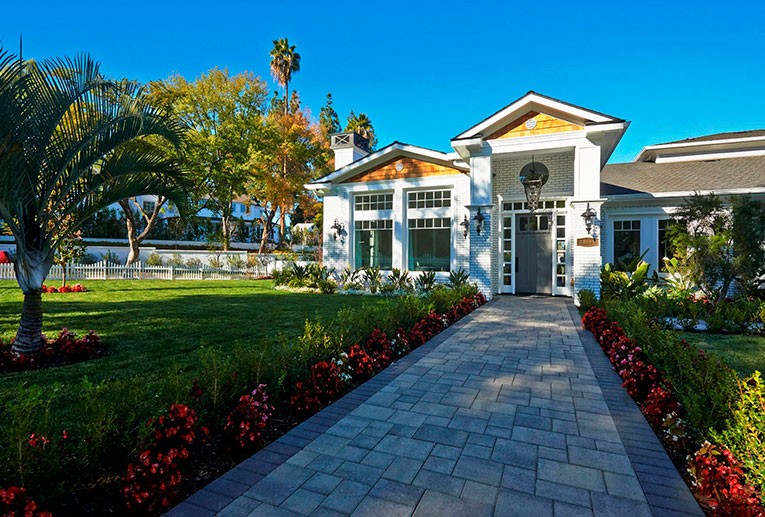 Courtyard pavers create a truly classic layout that can work well in just about any space, especially with a circle package also available. The clean lines and four-piece design layout really adds simplicity to the ground, but the color variations and unique layout really make the finished project pop with personality.
Belgard Avalon Slate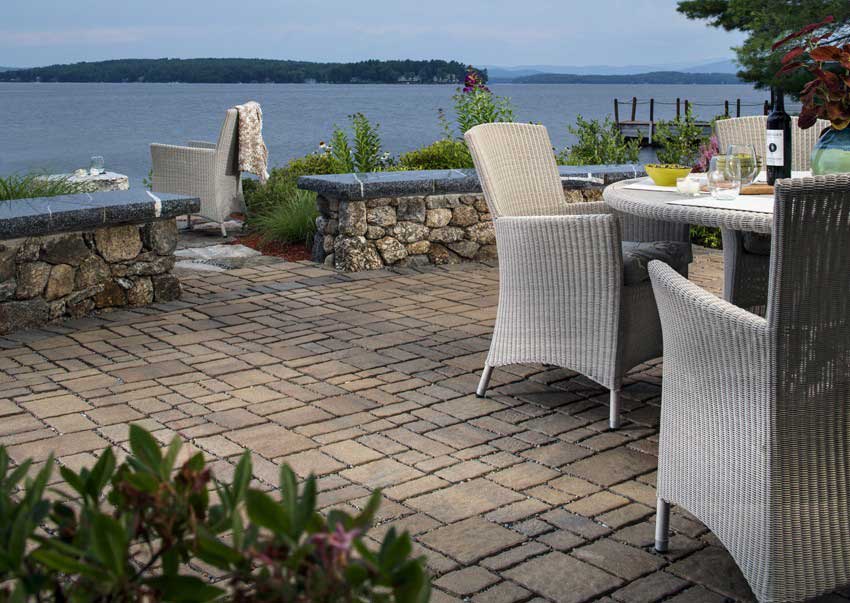 Dimensional texture, natural appeal, and geometric variation—this is precisely what Avalon Slate offers, and our customers love it. Stones are laid in a three-piece system, which works out well for large driveways.
Angelus Holland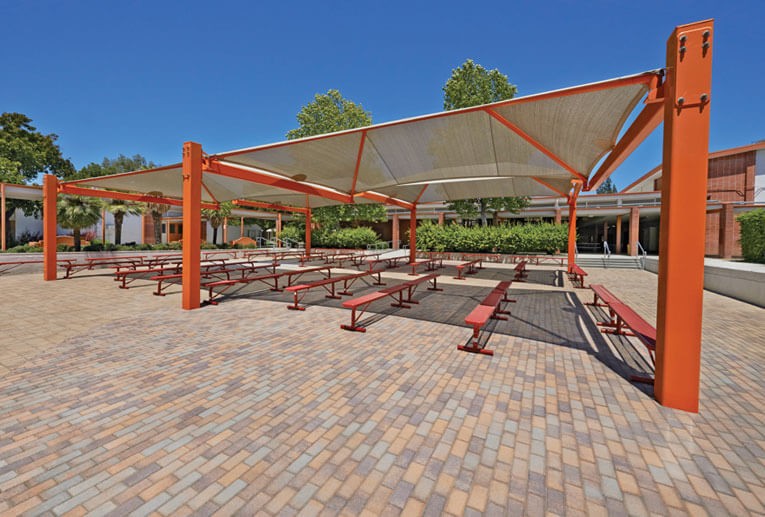 Holland stones are some of the best pavers for driveway projects because they deliver this traditional appeal and total functionality. The brick-sized stones are about the size and shape of average bricks, but the stones also boast chamfered edges for a little dramatic flair.
Belgard Catalina Grana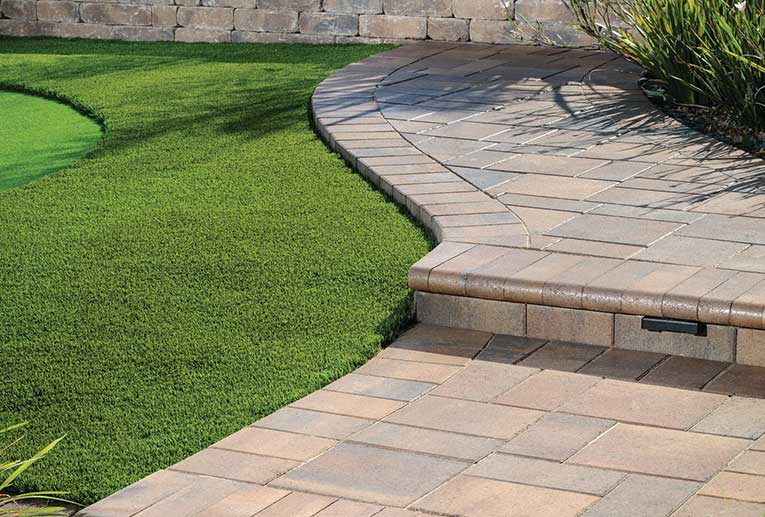 Catalina Grana paver stones serve up crisp, clean lines and smooth surfaces for an incredibly contemporary look. These stones are awesome for high-traffic areas, and the three-stone layout really provides a sense of luxury character.
Angelus Aqualina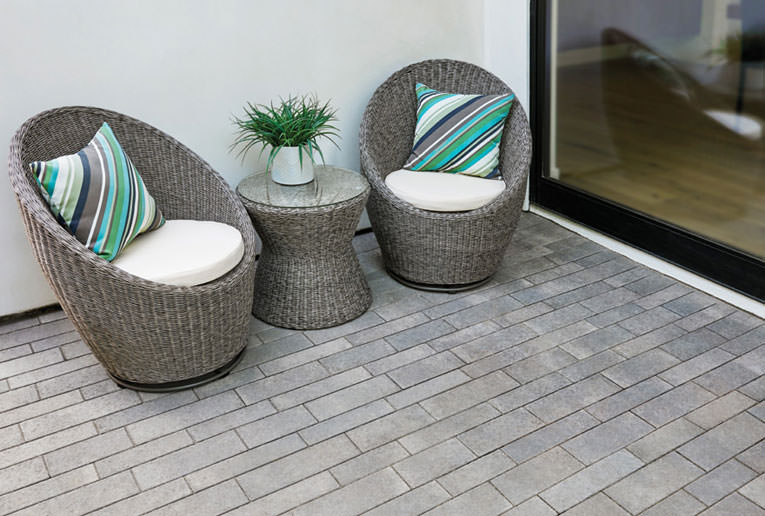 Aqualina pavers are also a rectilinear stone with a sort-of brick shape. However, the pavers come in varied widths and lengths, so when installed, you end up with this modular look with clean lines and ample visual interest.
Belgard Catalina Slate
Catalina Slate is a modular paver stone with a textured finish similar to natural slate. Stones are installed in three-piece configurations for geometric appeal, and the muted natural colors mingle together throughout.
Angelus Estate Cobble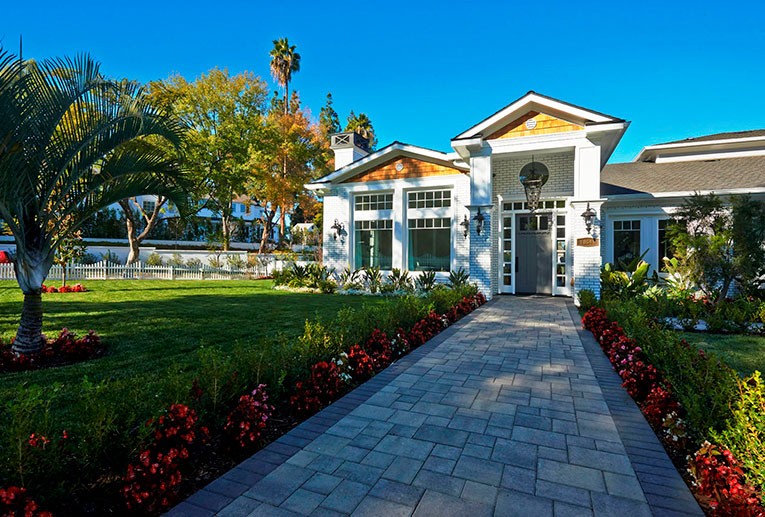 Estate Cobble pavers are incredible for property owners who want a touch of rustic ambiance resemblant to natural stone. The tumbled edges give that rust personality and the embossed tops deliver what appears to be a mature, rough-hewn stone.
Belgard Melville Plank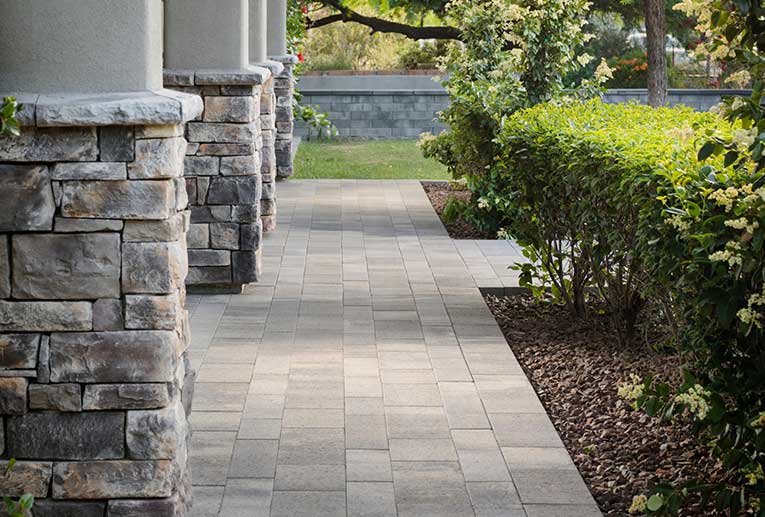 Plank-style paver stones don't always show up in driveways, but Melville Plank just happens to offer many attributes homeowners want: clean lines, smooth faces, and classic appeal. The elongated pavers offer this upstanding sense of style to accommodate just about any home exterior or landscape.
Angelus Heartland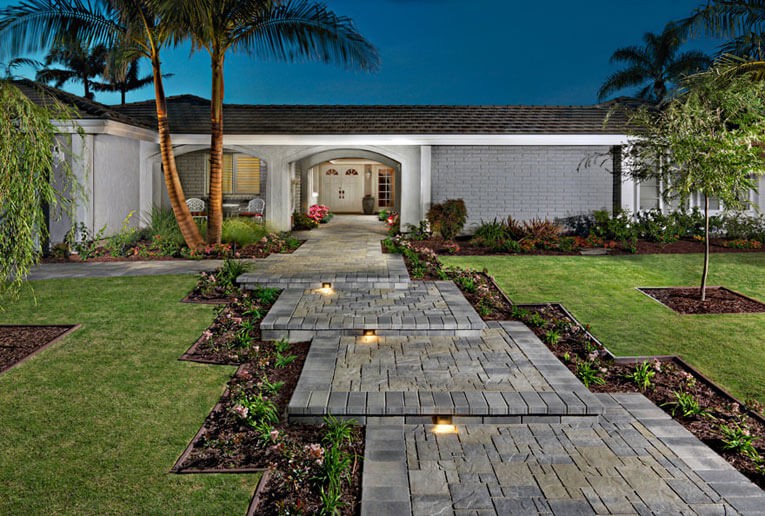 Heartland pavers are some of the best pavers for driveways surrounded by natural elements. The design is achieved with a four-stone pattern with varied joint patterns and what seems to be 13 unique stone sizes when the project is complete. The stones have a natural finish and widened joints for an added touch of character.
Driveway Pavers and Base Thickness
In the past, most driveways that were built using pavers that were three inches thick laid on top of a six inch base. Today, though, using thinner pavers and a thicker base is becoming a common trend. Ultimately, the best thickness for your driveway's pavers and base will depend on factors such as your location, the slope of your driveway, and more. Thankfully, the driveway paving professionals at Titan Pavers will be able to assess these factors and help you choose the ideal thickness for your driveway's pavers and base.
Paver Color and Border Options
Driveway pavers come in an incredibly wide range of colors, giving you room to choose whatever look you want for your new driveway. Matching the color of your pavers to the color of your home's roof is a common design trend, but the choice is yours.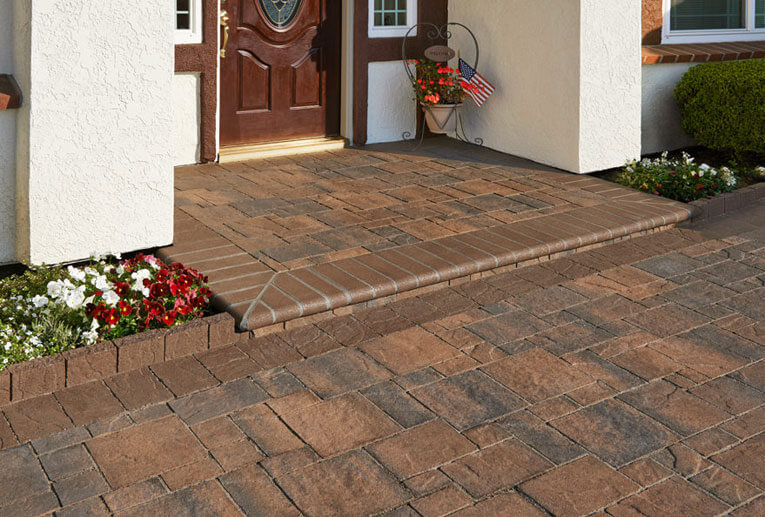 In addition to choosing the color of your pavers, another design choice you will need to make entails the border of your paver driveway. Some homeowners choose to construct the border of their driveway using the same color and style of paver stone as the rest of the driveway laid in a different pattern while other homeowners choose to create a border using paver stones that are a different color or style.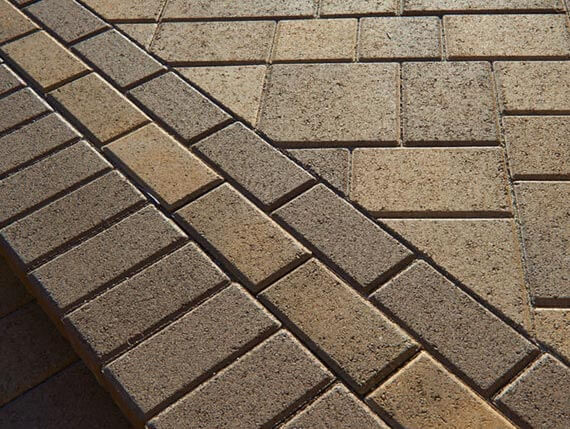 Paver Driveway Embellishments
When it comes to embellishing your paver driveway and creating a design that is truly all your own, the sky is the limit. The ability to construct a driveway using pavers that vary in color, shape, and style makes it easy to create outside-the-box designs. Whether you would like to create a rather straightforward circle in your driveway or you would like to go all out with a complex and intricate design, we at Titan Pavers are able to help. We'll work alongside you to help you choose the perfect paver driveway embellishments before installing your new driveway in a way that looks amazing and is fully functional.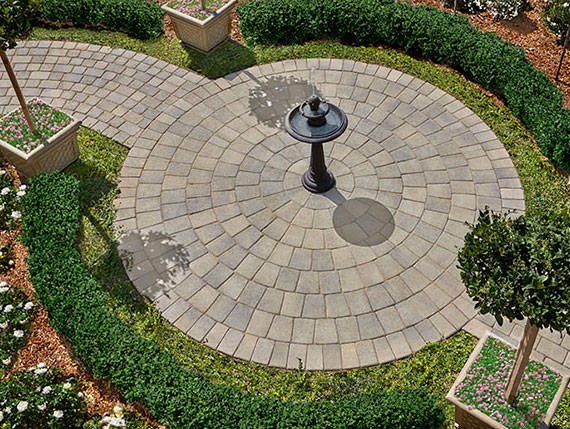 Get Started on Your New Driveway Today!
If you decide to build a driveway using concrete pavers, you've got a number of important choices to make. The good news, though, is that you don't have make them alone; we at Titan Pavers would love the opportunity to walk you through every step of the process. To get started designing the perfect new driveway for your home, feel free to contact us today at (818) 930-5776!