Los Angeles Outdoor Kitchens and BBQs by Titan Pavers
As one of the top rated paver installation companies, we have successfully crafted multiple paver outdoor kitchens and have a deep understanding of what it takes to craft durable, resilient and aesthetic space for the outdoor living areas.
OUTDOOR KITCHENS AND BBQs
Unleash the Ultimate Culinary
Experience with Our Outdoor Kitchens and BBQs
Create unforgettable moments and culinary masterpieces with our exceptional outdoor kitchens and BBQs. Transform your backyard into a chef's paradise, where entertaining and cooking go hand in hand. Our expertly designed outdoor kitchens offer the perfect blend of functionality and style, featuring high-quality materials and top-of-the-line appliances. 
Experience the ultimate outdoor dining experience with Titan Pavers. Incorporating natural materials for an authentic feel and designed for your space, our custom outdoor kitchens will have you entertaining often. With Titan Pavers, you can always expect a unique design that uses only top-quality materials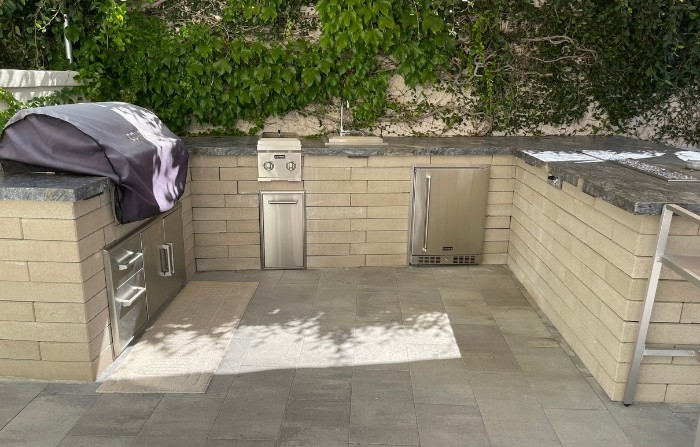 Outdoor kitchen
that meets your needs
From fire pits to stone grill islands, our experienced and dedicated team will work with you to create an outdoor kitchen that best meets your needs. We'll help you plan out the perfect party space with all the amenities – grills, countertops, cabinets, pizza ovens, bars and more.
Whether you're looking for a cozy backyard getaway or an extravagant entertaining space, our team of experienced designers and builders will work with you to create the perfect outdoor kitchen for your unique needs. We take into account every element – from size and layout to appliances and accessories – to make sure your outdoor kitchen is as functional as it is attractive.
With your custom outdoor kitchen, you can rest assured that it will look great and provide years of enjoyment. Enjoy cooking outdoors like never before!
Subscribe and
Get $500 OFF
For new clients – Receive $500 off any paver or turf installation.
Minimum 1000 SqFt.