Driveway Paving: Leading Driveway Pavers Contractor in Los Angeles Area
When it comes to driveway paving, we, at Titan Pavers, are in the driving seat! As the preferred driveway paving contractor in Los Angeles, San Fernando Valley and Ventura County, we have been styling stunning dream driveways for decades. Your paver driveway adds to the curb appeal and is a preview of what lies inside of your beautiful home. Whether you are looking to building a driveway with pavers from scratch or renovating the existing one, we start out every project with careful consideration of the shape, durability, design, and utility.
As the top driveway contractor in Los Angeles area, we give shape to each dream by factoring in these elements:
Aesthetics: We understand how important curb appeal is for homeowners. While we build paver driveways that truly stand out from the rest, we look at both functionality and aesthetics as we design and build the best fit for your property. Our leading Los Angeles driveway pavers installation team work closely with you to match designs to your personal tastes while suggesting the ideal look that blends holistically with your property. From fancy precincts to functional driveways, we aim for perfection to everything we do.
Budget: The costs of driveway installation, resurfacing or home improvement project are key considerations. The choice of design, driveway dimensions, paving stones, drainage features, and adjacent landscaping are just some of the elements that influence the cost. At Titan Pavers, the preferred driveway paving company, you get the advantage of wide-ranging paver options and design ideas to suit your budget and décor needs.
Maintenance: Climate and geography are key elements that influence the choice of driveway paving stones. Heavy rains, freezing and thawing, humid conditions can all lead to erosion of surfaces. Driveways built of gravel and asphalt need sustained attention while pavers are strong and highly durable.
Pavers not only have high aesthetic appeal but can withstand harsh weather conditions while remaining stable and clean even in wet conditions.
Experience the Difference with One of the Best Driveway Paving Contractors in Los Angeles
Superior workmanship, years of experience, and unmatched expertise give us a clear competitive edge. We have built a reputation over the years as the most trusted driveway paving contractor Los Angeles has with an intense focus on quality. We are renowned for our Los Angeles driveway pavers that are synonymous with high standards, uniformity, and durability. Our driveways last a lifetime while enhancing the look of your home.
We offer the most extensive design and paving patterns while we have extensive experience of working with wide-ranging paving materials. Some of the design patterns we are well-versed in are:
Basket weave
Circular patterns
Herringbone with border
Stretcher Bond
Stack Bond
Mixture of sizes
Our team of experts can work with any material – be it concrete interlocking pavers or natural paving stones - to create an attractive driveway. We follow best practices in driveway paving while crafting pleasing and highly durable driveways.
Frequently Asked Questions
A permeable material is a material that absorbs water rather than deflecting it. In the case of permeable driveway installation, permeable pavers are used to create a driveway that will absorb water instead of creating excess water flow down your driveway.
Permeable driveways are beneficial for a number of important reasons. For one, they can prevent damage to your driveway and the rest of your landscape caused by excessive water flow. Rather than allowing water to flow down from your gutters and across your driveway, permeable driveways will simply absorb any water that they come in contact with without taking any damage. This makes controlling erosion in your landscape a much easier task and eliminates the need for costly drainage systems.
Permeable driveways are also an eco-friendly choice since they prevent water that has been contaminated with oil and other contaminants from flowing across your driveway and into the ecosystem.
At Titan Pavers, we are experts at designing and installing permeable driveways using high-quality permeable pavers. If you would like to learn more about our permeable driveway paving, we invite you to contact us today!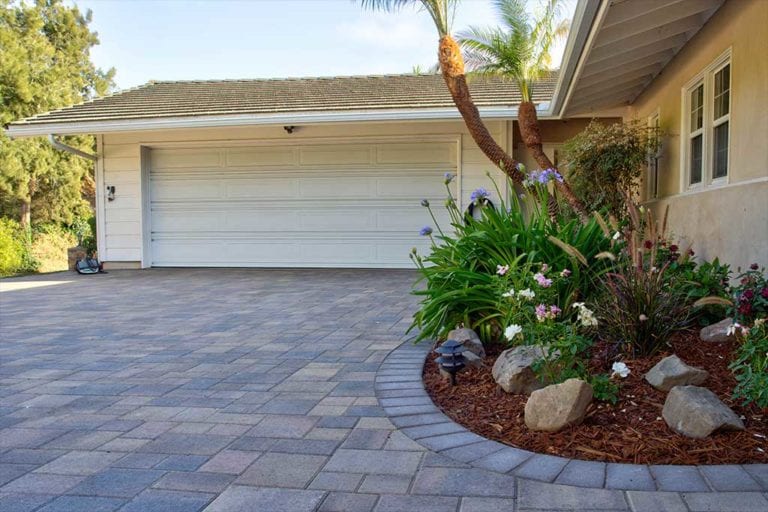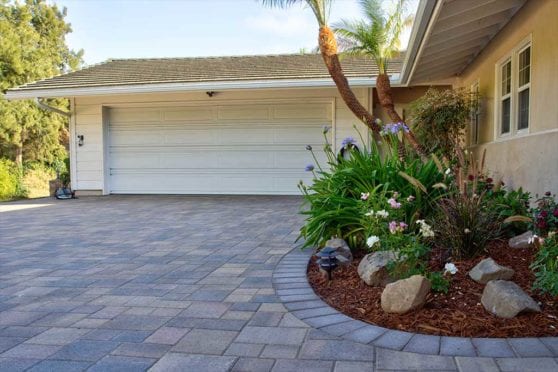 Paver Driveway Installation: Comparing Asphalt vs Brick vs Concrete If you have decided to build a new driveway, one of the most important decisions that you will need to make is choosing the material that you will use. When building…