Versatility, aesthetics, durability, and ease of maintenance are the top priorities when it comes to choosing the right surfaces for outdoor spaces. Outdoor kitchen pavers tick all the right boxes to impart a unique appeal while ensuring the kitchen is safe, durable, and slip-resistant.
As the leading paving contractor Los Angeles residents trust, we at Titan Pavers have worked closely with homeowners to make their outdoor kitchen dreams come true.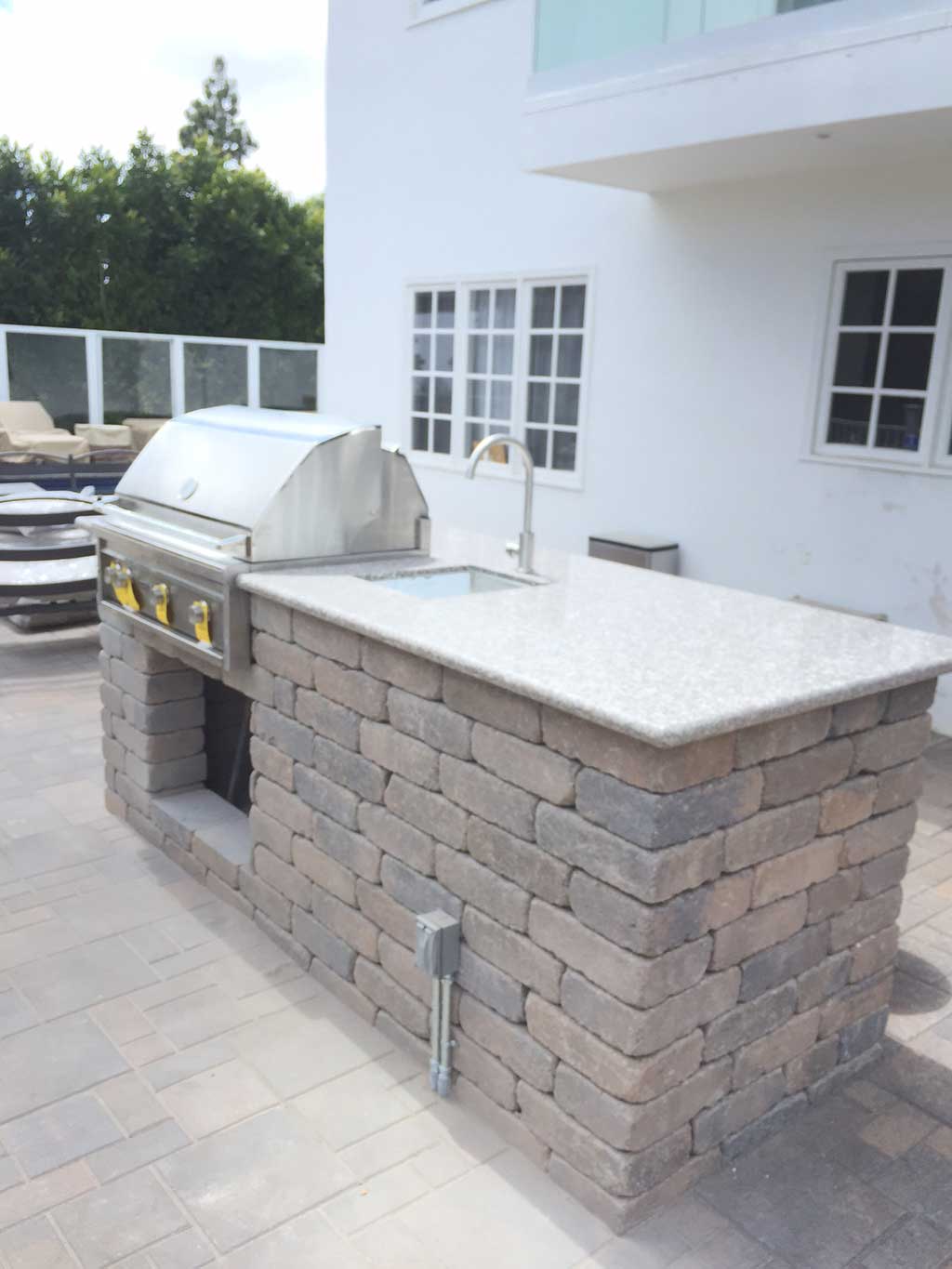 Top Five Reasons to Install Outdoor Kitchen Pavers
Cost-effective: Pavers are the obvious choice for an outdoor kitchen because of the economic benefits it offers. While they cost much less than many other materials including natural stone, they last for as long as thirty years, giving you maximum return on your investment. Our pavers are easy to install, repair or replace, which means the maintenance costs are significantly low as compared to traditional concrete or asphalt.
Durable: Interlocking concrete pavers ensure your outdoor kitchen has a long lifespan. Pavers withstand seasonal weather changes with their ability to expand and contract as needed, unlike concrete slabs or asphalt which can crack or split due to temperature fluctuations.
Easy to maintain: The pavers outdoor kitchen is the preferred place for the family and friends to gather, barbecue, and party. Since floor surfaces are subjected to high amounts of spills, stains, grease, oil, and moisture in an outdoor kitchen, it is important to choose a strong, durable, and stain-resistant surface. While many surface materials absorb the stains or moisture and need constant maintenance or replacement, pavers can be easily cleaned, rinsed or swept as part of routine cleaning.
While you are engrossed in entertaining your guests in your outdoor kitchen, the food spills and stains should not be your primary concern. With other materials, stains are easily noticeable, while such imperfections are easily hidden with concrete pavers. Outdoor kitchen pavers can also be quickly replaced or flipped to ensure your outdoor kitchen looks spotless at all times.
The textured surfaces of pavers make them highly slip-resistant, which makes them the best choice for outdoor kitchens which is prone to damage from oil, smoke, water, and food particles.
Aesthetics: At Titan Pavers, we excel in interlocking concrete pavers installation and a great selection of pleasing, neutral, and bright colors which perfectly match your home's exterior as well as the outdoor landscape. Pavers are the natural choice over traditional poured concrete or asphalt because of their aesthetic appeal. It is crucial to partner with a professional outdoor kitchen pavers contractor who is well-versed in using different textures, laying patterns, sizes, and shapes to ensure the outdoor kitchen becomes the center of attraction.
Safe: According to the fire department, every year, approximately ten thousand home fires are reported that involve barbecues and grills. Safety is the primary concern when designing outdoor kitchens. Ensuring the kitchen floor surface material meets the mandated safety standards while being flame-repellent is crucial to prevent injuries and property damage.
Contact Us Today (818) 930-5776
Having built a reputation for being the best paving contractor in Ventura County, San Fernando Valley, and Los Angeles County, Titan Pavers is committed to ensuring your outdoor kitchen is a safe place to be in for your family and friends.