There are probably as many paver colors as there are types of pavers available. More popular choices include copper, adobe, mocha, charcoal, sand, stone, and pewter. Each will give your outdoor project a unique look, while increasing the functionality of your space.
For areas that receive heavy foot traffic, such as walkways, driveways, or garden paths, choose dark-colored pavers with texture to hide dirt and debris. For front entryways or backyard patios, light-colored pavers, such as sand, cream, or terracotta, provide an elegant appeal while absorbing less heat from the sun.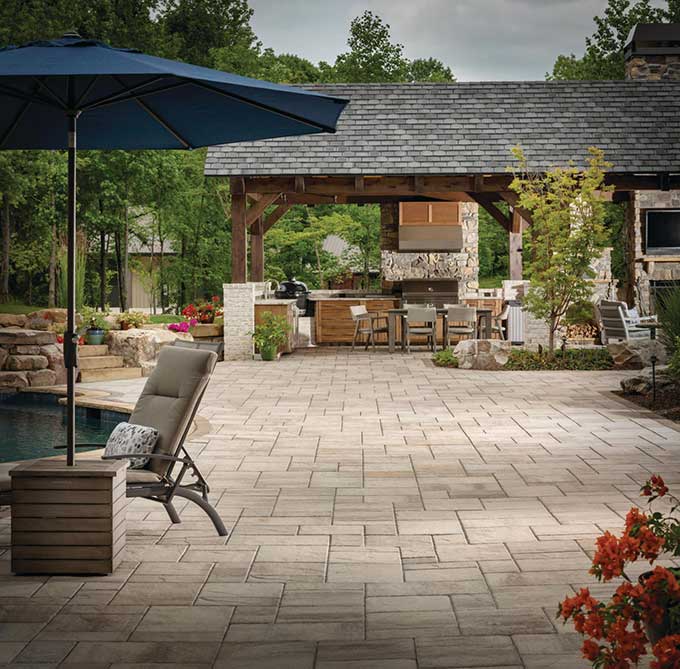 How to Choose the Best Paver Colors for Your Next Outdoor Project
A lot of thought should go into choosing the best color combination for your outdoor project. After all, a professionally installed hardscape could easily last the life of your home, so you want it to feature colors you adore. But with all the available paver colors available, how do you choose the right ones? We've gathered a few tips from the experts.
Ask to See Samples
First, and most importantly, ask for samples. Because pavers are manufactured using natural materials, one region's terracotta may vary greatly from another's. This is why you should always ask to see actual samples of the stone you'll be purchasing before you commit.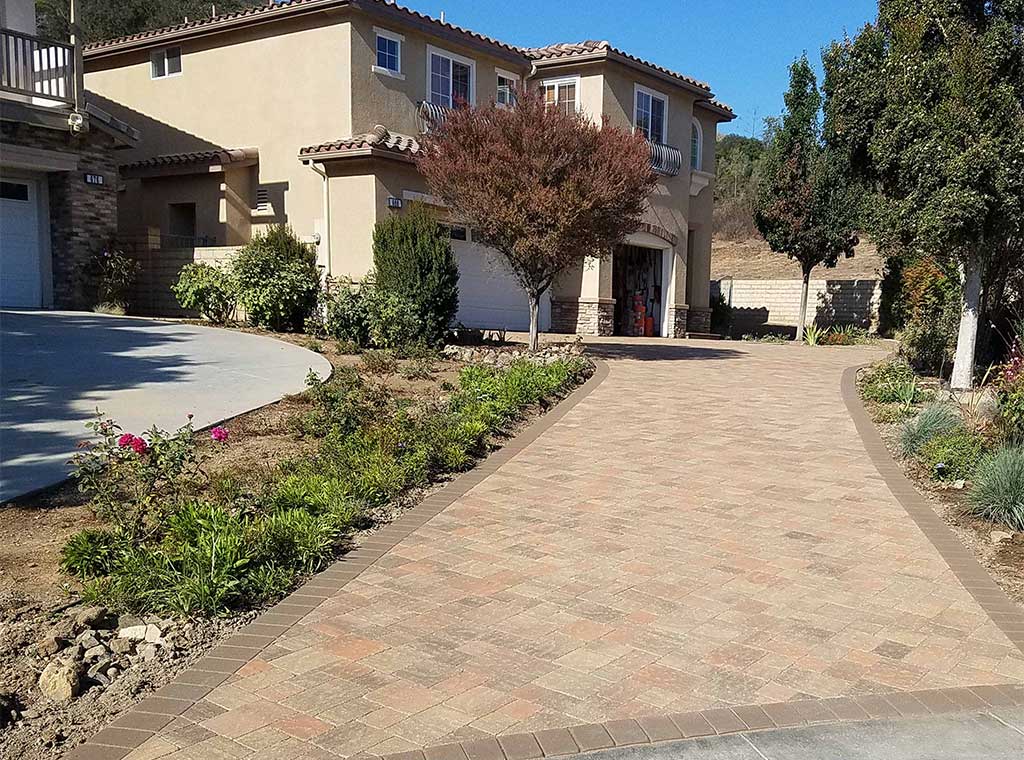 Keep Purpose in Mind
Next, keep in mind the purpose of your project. Are you hoping to create a small, cozy space for entertaining after dark? If so, dark, warm colors, such as reds, browns, or oranges could look lovely. They'll make your space feel smaller, however.
Conversely, if you envision a bright, clean patio that's adjacent to your in-ground pool, then pavers that lean toward white, gray, or light tan may be the best options. The general rule-of-thumb to keep in mind is that light colors and light tones make an area feel more spacious and airy, whereas dark colors and dark tones lean more toward cozy and intimate.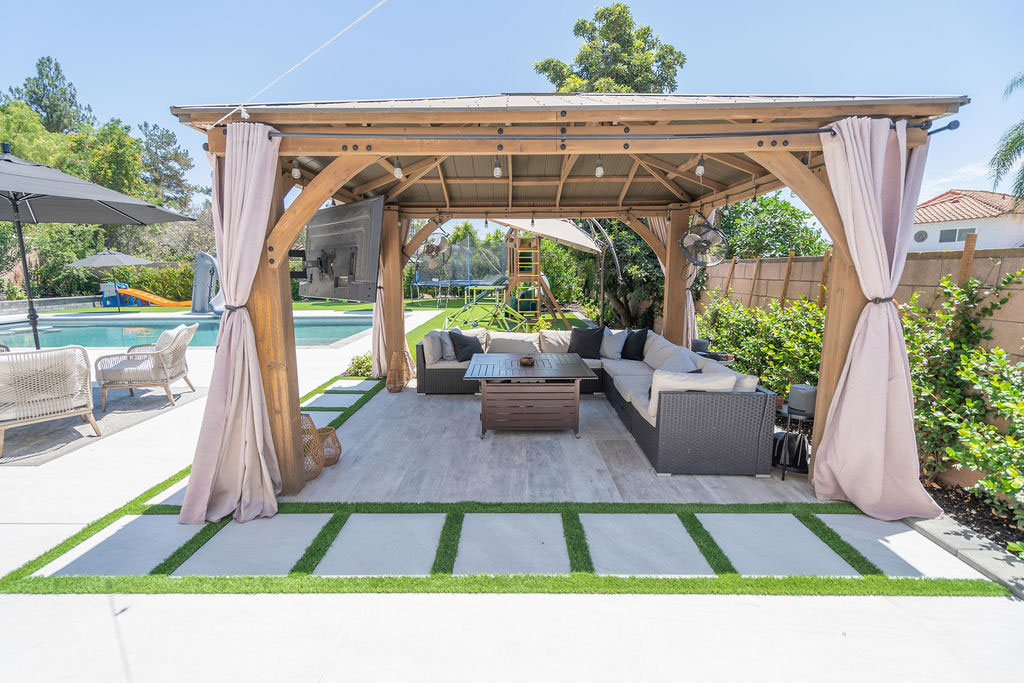 Consider Comfort
Dark stones tend to absorb more heat from the sun, as well. So, if you're creating a walkway near the pool or garden where bare feet are expected to roam, light-colored pavers are probably more appropriate.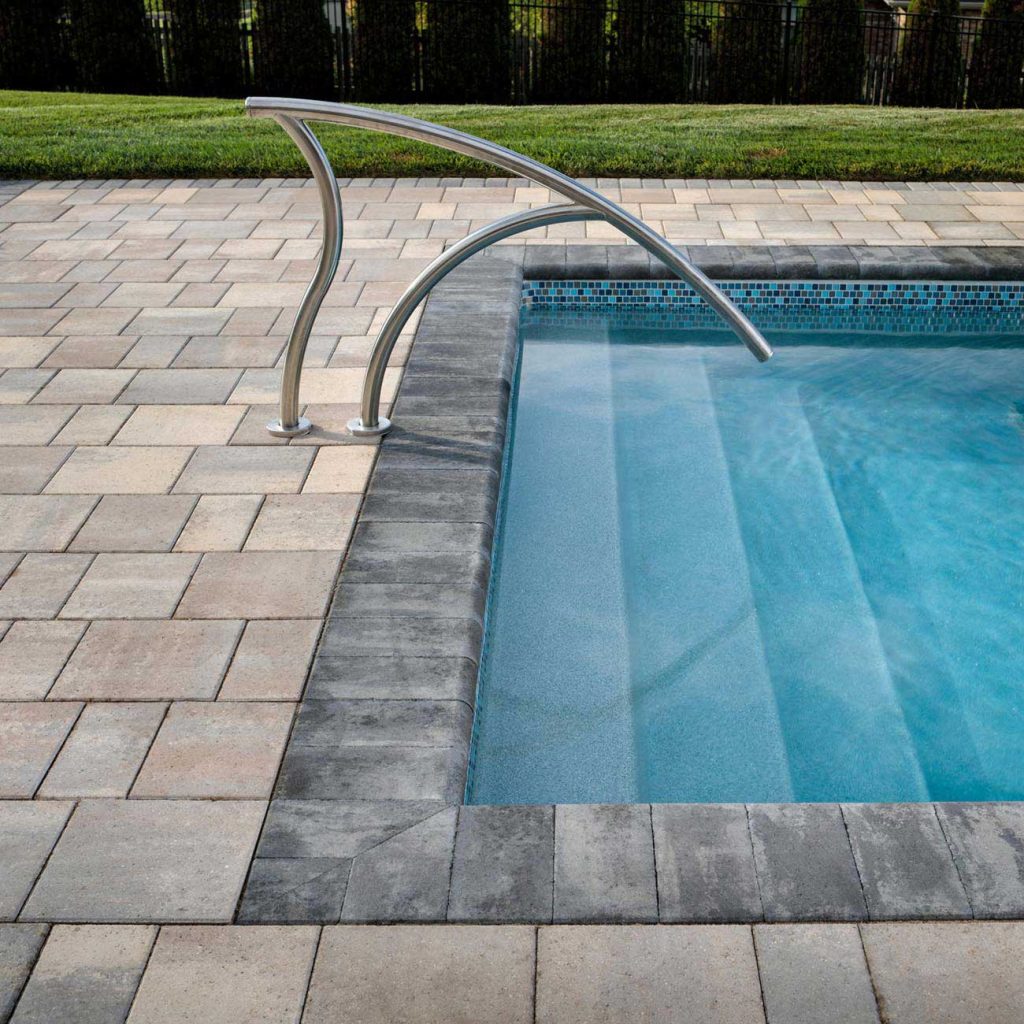 Master the Art of Combining
Our next tip may require the help of an outdoor designer who understands the relationships between colors, but it will be worth that added expense when you're left with a spectacular outdoor space. This is where we recommend learning how to combine paver colors to create a space that's customized specifically for you and your family. Today, popular color combos include:
Cream, brown, and charcoal
Cream, red and terracotta
Brown, gray, and charcoal
Sand, cream, and beige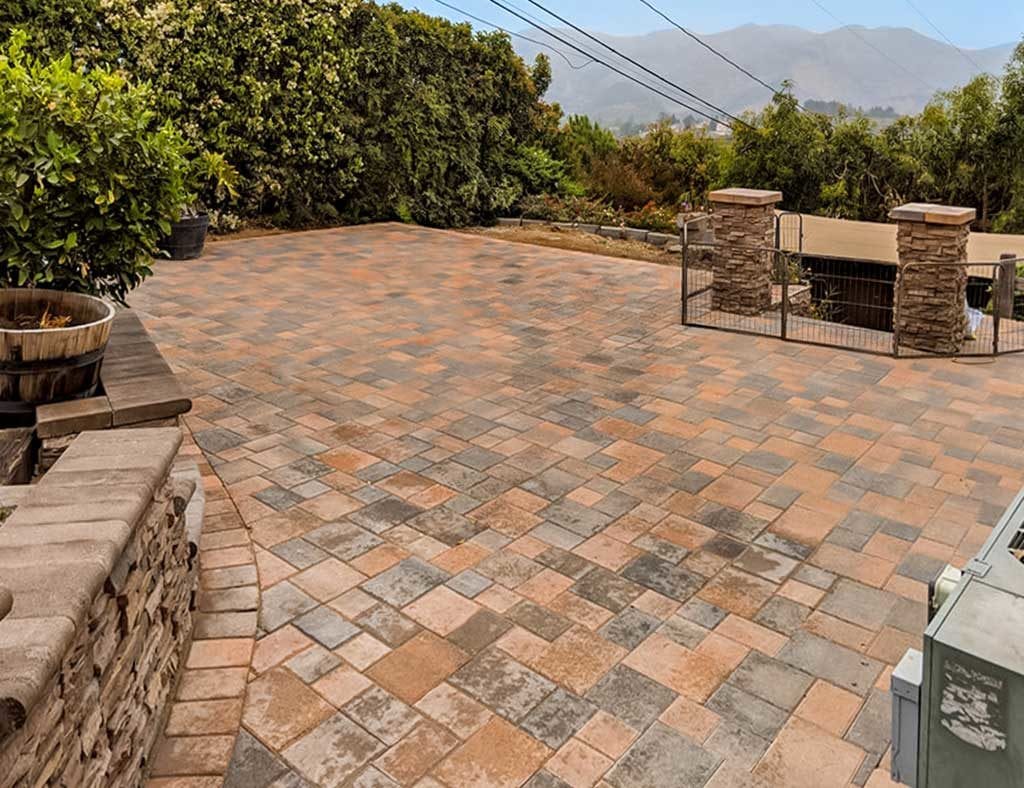 Accent With Color
Playful accents are always nice, too. And they'll give your space a well-thought-out and upscale appeal. Modern pavers come in so many colors, tones, styles, and sizes that it's easy to create fun and unique designs. For example, you might use them to create an outdoor "rug" that never needs to be dry cleaned.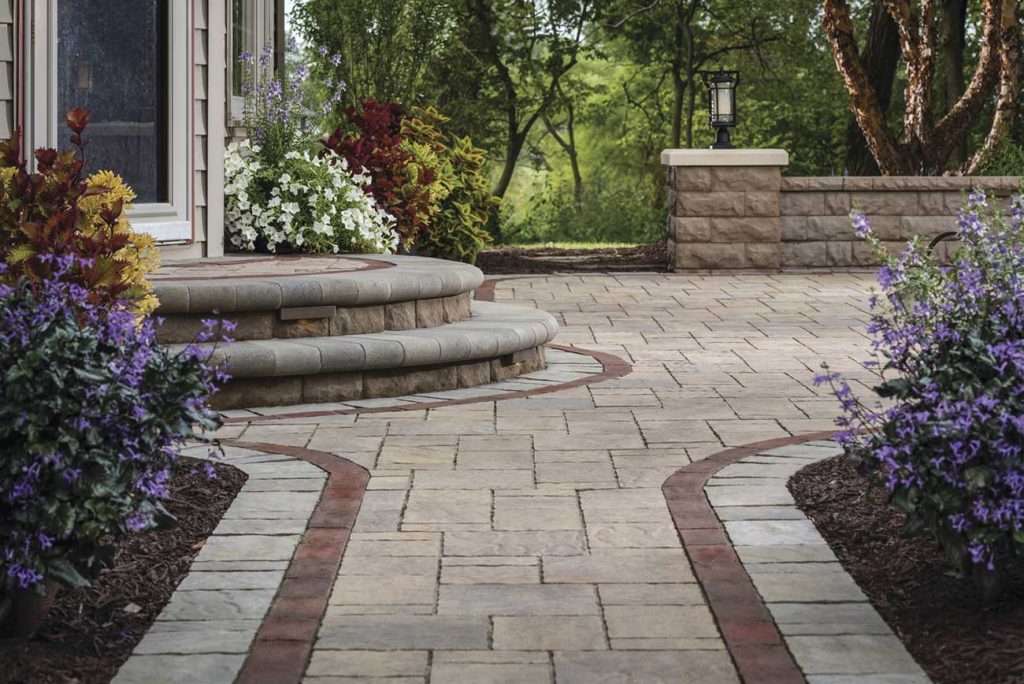 Choose Colors That Complement the Surroundings
If your home features navy vinyl siding, you'll want to select paver colors that complement that. While there's no need to opt for matchy-matchy, you should probably steer clear of colors that will clash. For instance, navy blue siding would pair prettily with pavers from the cool line of colors, including blues, grays, whites, and black. Then again, if you're building a backyard entertainment area off your red brick rancher, opt for warm-colored pavers in red, brown, orange, tan, or yellow.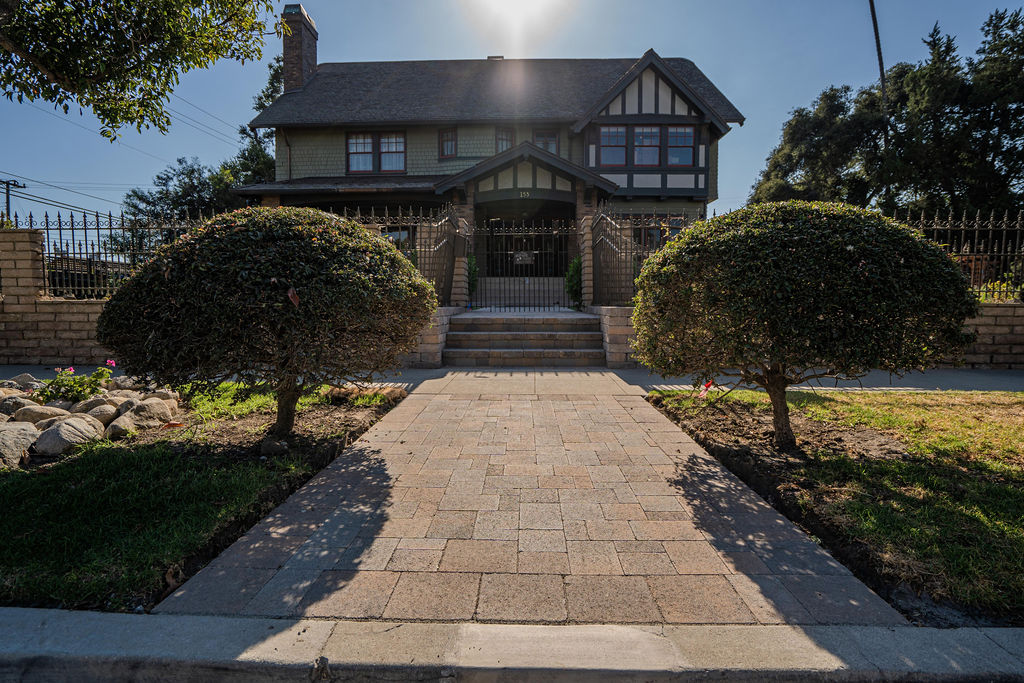 [related_post id="12141″]
What Paver Color Options Are Out There?
There really is a paver for every project. There's even a paver that mimics the look of weathered wood. So, if you're thinking about your next outdoor project and wondering how to step it up a notch, consider using interlocking pavers. They come in a variety of attractive colors that complement every exterior.
Paved areas can act as framing for your curb appeal, or they can serve as a feature element. Either way, they should look nice next to your home. This means choosing a color that goes well with your exterior siding and choosing a paver that fits well with your home's style. For example, stucco walls pair well with cobblestone pavers or with any paver that has an aged or rustic appeal, such as permeable slate. This effect is popular in the Tuscany region of Italy, and usually pairs warm, earthy tones together. If you're hoping to create a Tuscan feel in your modern courtyard, use warm reds, browns, and tans as paver choices. Add terracotta planters and pottery as finishing touches.
Then again, if your home is a sleek, contemporary masterpiece of simple lines and smooth metal accents, the muted gray tones of Aqualina pavers are perfect companions.
Which Paver Color Options Are Currently Trending?
Pavers in earth tones and various shades of gray will always be popular choices for homeowners looking to create a stylish, yet timeless, look. Pavers that feature strong variations in color seem to be the 'in' thing currently. When seen from a distance, they give your outdoor space a natural, mottled appearance. Close up, the pavers are different shades from the same color family or simply different colors altogether.
When you're ready to begin your next outdoor project, consider the many benefits of interlocking pavers. Concrete paving stones help keep dust and mud at bay, while giving guests a dry surface to place their feet. Pavers look nice and give your outdoor landscape an upscale appeal. Finally, they're functional and attractive additions to your flower beds and stonescaping. And when professionally installed, they may even raise the resale value of your home.
For help choosing the right paver colors for your project, reach out to us today. We're glad to help you achieve the look you desire.